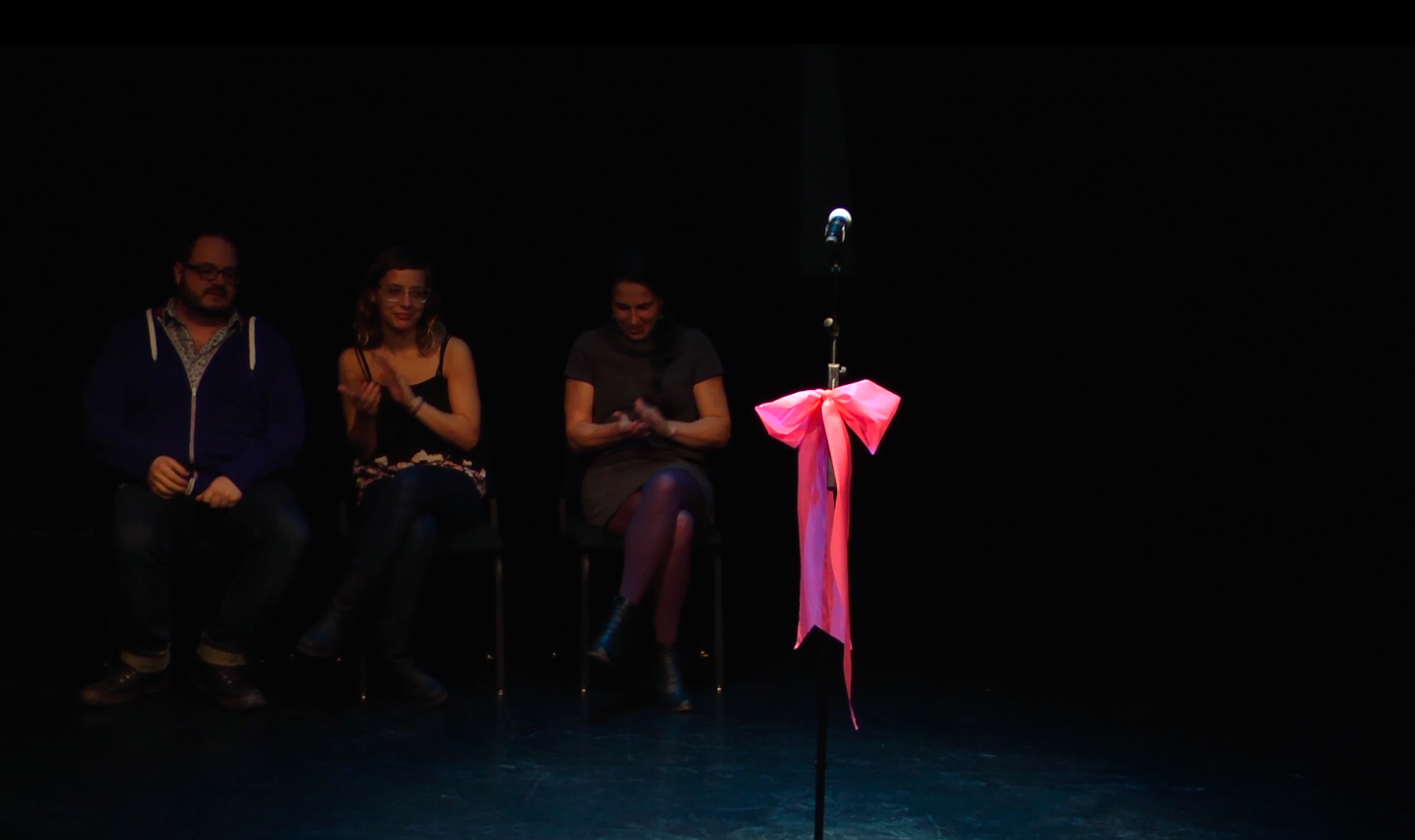 TROIS RÉFLEXIONS
L'art pense : Créer l'intime Series
March 11th, 2014
BAnQ - Bibliothèque et Archives nationales du Québec, Montréal.
The intimate self is as essential to inspiration as air is to life. Without it, there is no creativity. If the time ever comes when we are able to read one another's thoughts, humanity as we know it will be finished.
After the 2012-2013 event entitled 50 ans d'avenir - L'art pense, which invited audiences to reflect on philosophical themes in order to create new possibilities, in 2014 the series L'art pense : Créer l'intime was focussing on the creative act. An artist and a member of Quebec's Académie des lettres discussed and hosted this event; their discussions were interspersed by performances by three multidisciplinary artists.
Guest artists for Créer l'intime: Radwan Ghazi Moumneh, Nadège Grebmeier Forget and Symon Henry
Hosted by: Nicole Brossard and Monia Chokri
In collaboration with OFFTA and the Académie des lettres du Québec.
*
Trois Réflexion is part of the series One on one's for so called fans.
One on one for so-called fans consists of a series of performances for 1 to 4 preselected witnesses. Just meters away from the actions, in a lair invested by the artist, those that attended these earlier private meetings then reveal publicly the performative narrative of the past encounter. Simultaneously shimmering the limits of their own intimacy, storytelling and appropriation of one's body and gestures becomes the only possible way of retracing its original author.
Privileged guests and storytellers for this performance: Maxime Champagne, Caroline Boileau and Rosalie Chrétien.
+
Thoughts on intimacy and creation by Nicole Brassard | Fr.
Nul doute que l'intime est à la conscience ce que l'air est à la respiration, c'est-à-dire un flux continu ayant d'étranges moments d'accélération et de ralenti porteurs de grands emportement et effondrements. Si aujourd'hui nous prenons la peine de parler de l'intime, c'est sans doute parce que l'intime ne peut se concevoir en dehors des mots, des images, d'une mélodie ou d'un vivifiant sound effect existentiel. C'est avec cette matière que la création s'active. En d'autres termes la création procède de la capacité de l'intime à faire synthèse subliminale du monde intérieur et du monde extérieur. Éphémère continu, l'intime est sans répit, sans repos, en mouvement constant de repliement et d'expansion.
 
Il ne faut pas confondre l'intime et la vie privée*, la vie privée étant liée à notre rapport aux autres (conjoint, enfants, parents, ami/es intimes, allégeance religieuse ou politique) et en cela passe par les institutions sociales et les mœurs ayant cours, transgressées ou pas. Lorsque les féministes disaient « la vie privée est politique », elles avaient raison en ce sens.
 
Notre vie privée peut facilement être menacée : elle l'est et le sera de plus en plus.
 
Pour le moment notre vie intime reste protégée quoique l'on affirme déjà qu'il sera possible un jour de lire dans les pensées. Il en sera alors fini de ce que nous aurons appelé notre humanité, cette « classe moyenne » du vivant ayant cherché à s'accommoder entre l'instinct et l'esprit.
* La personne avec laquelle vous faites l'amour relève de la vie privée. Les pensées qui sont les vôtres avant, pendant ou après une relation sexuelle relève de l'intime. Ce sont ces pensées qui serviront tôt ou tard à votre création.