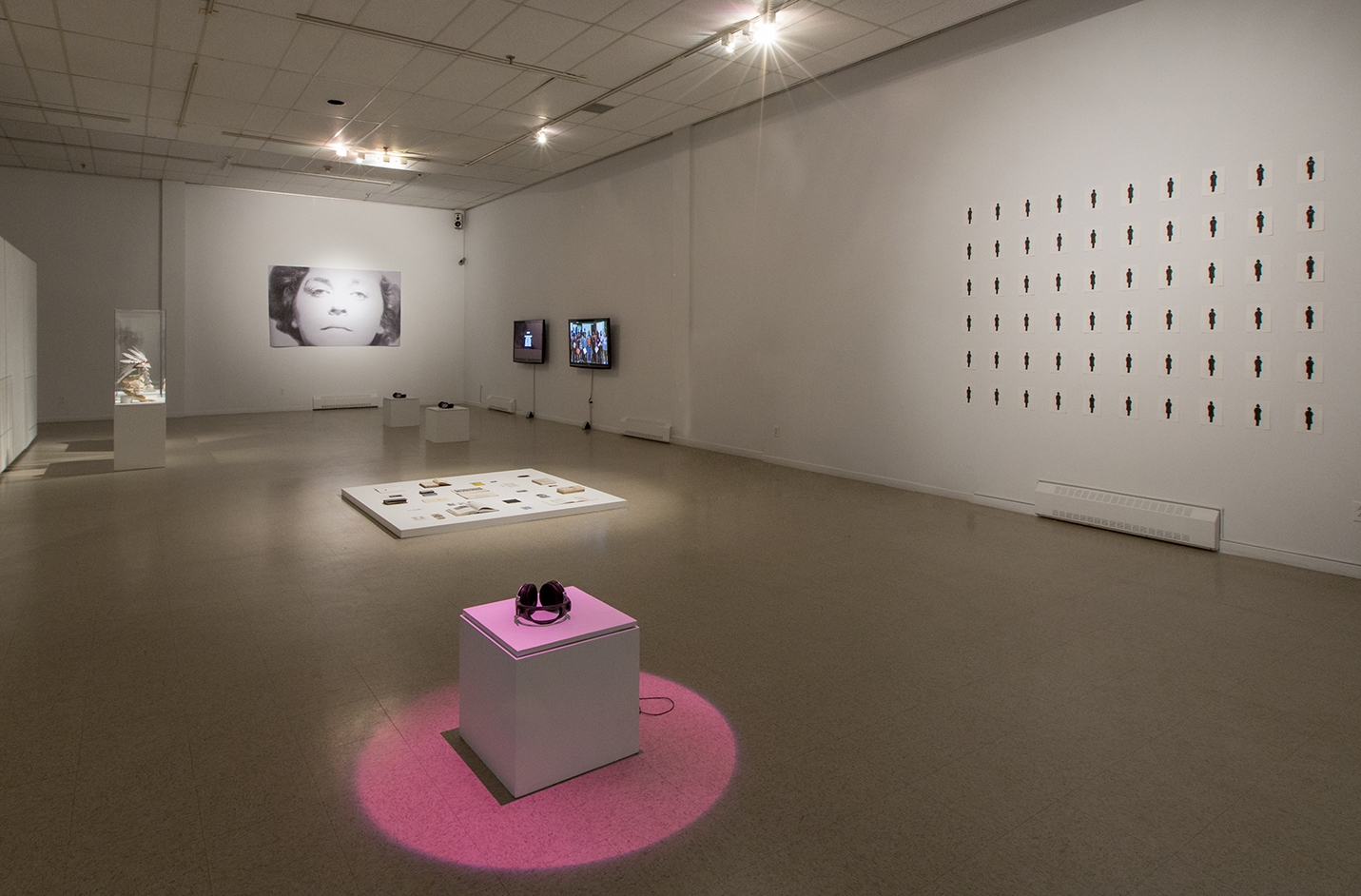 TROIS RÉFLEXIONS
De la parole aux actes / Actions Must Match Words
March 29 - May 31, 2015
Musée d'art contemporain des Laurentides, Saint-Jérôme, QC.
L'exposition De la parole aux actes met en dialogue les œuvres de plusieurs artistes d'Amérique du Nord. En les rassemblant, la commissaire Anne-Marie St-Jean Aubre souhaitait interroger nos manières de concevoir le monde en réfléchissant aux situations des femmes et des Autochtones, abordées sous l'angle de l'éducation et du langage.
Un des fils conducteurs de ce projet était le rôle de l'éducation, considérée ici au sens large en tant que tout espace de formation visant le façonnement de la pensée, toutes méthodes employées pour véhiculer des idées en les présentant comme des vérités, des faits. Les écoles sont dans une position ambiguë : terrain fertile pour l'interrogation des idées reçues, pour l'échange de points de vues et le développement du regard critique, elles sont aussi un environnement politique où les positions et valeurs officielles sont transmises.
L'exposition proposait ainsi un regard croisé sur les réalités du patriarcat et de la colonisation : deux systèmes d'autorité véhiculant des normes, des valeurs, dictant des comportements à adopter et des manières de penser.

" [...] Nadège Grebmeier Forget's project invites us to think about the seditious potential of the story when it is considered as a point of view and not as truth. What version of history are we disseminating in our schools, and for what purpose? And more broadly, who has the right to review content and courses taught, an extremely important contentious point in relations between First Nations and the federal government, and in my view, a question to which we should all be more sensitive."
Download full PDF + (soon)
*
Other invited artists : Maggie Groat, Sharon Hayes, Faye Heavyshield, Maria Hupfield & Scott Benesiinaadandan, Sophie Jodoin, Michelle Lacombe, Leisure - duo composed of Susannah Wesley and Meredith Carruthers, Alanis Obomsawin and the Wapikoni Mobile.
Curator : Anne-Marie St-Jean-Aubre
Work exposed : Trois Réflexions (2013), séquence audio / soundtrack (en français / in French), 20 minutes, extrait d'une captation vidéo enregistrée en présence de l'artiste / from video produced by the artist.
Images : Lucien Lisabelle and Christian Bujold